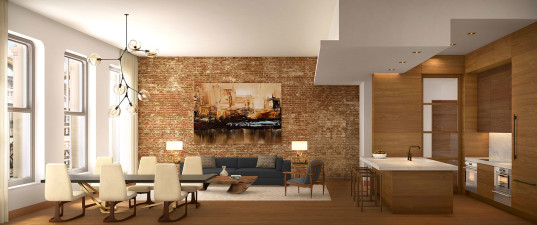 60 White Street's opulently restored loft residences marry history, luxury and sustainability in Tribeca Read more: 60 White Street's masterfully restored loft residences marry history, luxury and sustainability in Tribeca
"60 White Street is part of history," says Veronica Mainetti, president of development company Sorgente Group of America. "These buildings tell our story long after we're gone…if we listen." At 147-years-old, the cast-iron Tribeca building is looking better than ever thanks to a painstaking sustainable restoration led by Mainetti over the past three years. The opulent eight-unit condo conversion reused a whopping 80-percent of materials salvaged from the original structure and is kitted out with the latest passive house technologies (including a brand new class of window developed specifically by Zola for the project), as well as a blue roof rainwater collection system, an air-purifying green wall in the lobby, and radiant heat throughout the residences for comfort and energy-efficiency.
"Everything from day one has been about having this building perform in a smarter way," explains Mainetti in the trailer for a documentary she produced to chronicle 60 White's restoration. "Passive house windows set a new energy standard with modern technology. What doesn't come from the existing structure is locally sourced.
The $9.4 million penthouse features a slide-open wall of windows that allows residents to step out onto a massive deck with views of downtown Manhattan.
The sumptuous marble that lines the bathrooms, kitchens and common areas was sourced locally at Vermont Danby Marble, and rich, reclaimed oak panels from The Hudson Company's FSC-certified mill complement walls made of salvaged brick to form a warm and distinctive materials palette.
In addition to its impressive material reuse rate, the building was designed with a highly insulated envelope to keep energy usage to a minimum.
Not a bad view to come home to, eh?
In the building's lobby, residents will be welcomed home by a green wall that does double duty as both an artpiece and an air-purifier.
European window company Zola developed a new class of 3-paned, passive house-certified windows for the project that keep drafts and noise out while staying true to the structure's 1869 facade.
Additional common areas include a club lounge with a full bar and video projector and a fitness center with entertainment system and equipment.
he indoor/outdoor lounge also featured an eye-catchingvvertical garden.The spa-like bathrooms are lined with marble quarried locally in Vermont.
Fonte articolo:
inhabitat.com