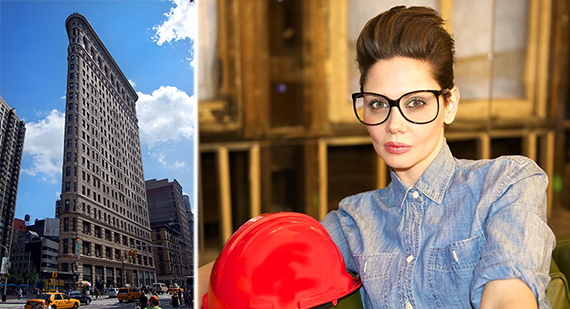 Veronica Mainetti on raising capital from Italy, the challenges of the LA market, and owning the Flatiron Building
Veronica Mainetti is the president of the Sorgente Group of America, the U.S. arm of the Sorgente Group of Rome, an Italian real estate company owned by her father, Valter Mainetti.
Sorgente, which deploys funds raised predominantly from Italian investors, owns prominent Los Angeles buildings such as the Clock Tower Building in Santa Monica and the Fine Arts Building Downtown. It also owns a majority stake in the famed Flatiron Building in New York.
We sat down with Mainetti to talk about her L.A. portfolio and the state of the market. Read on for a closer look.
You've owned the Clock Tower for a couple of years now, right?
We purchased that building in 2013 for $34.5 million. It's an iconic property. It was built between 1929 and 1930. It's one of my favorite buildings. It's full of tech tenants—100 percent leased. It's incredible how much the market has grown in Santa Monica and Downtown L.A. I've seen such a huge change over the past five years.
What about the Fine Arts Building downtown?
It's such a magnificent, historic monument with this really beautiful Romanesque façade. There were so many movies shot there. We bought it in 2010 for $28.5 million. We're almost 97 percent leased. We recently signed a lease for 50,000 square feet with WeWork. They are constantly leasing properties and move very fast. It was interesting to work with them.
How long to do you plan to hold on to those buildings?
We're marathon runners when it comes to office buildings. We want to be in it for the long haul.
Are you still in acquisition mode in L.A.?
We're always looking for new deals in L.A. but the market right now is just very hot. I've never seen a city, other than New York, that has just so much going on. I'm focused mostly on Santa Monica, Downtown L.A. and Hollywood. I would love to do our next development project in Santa Monica. We're considering it.
What are some of the challenges?
We're looking only at deals off-market because right now it's so hot that it's difficult to find properties. You have to compete with these companies from overseas that are happy with a 1 percent return, which obviously wouldn't work for our investors. We've been outbid by Asian companies multiple times. It's hard to see what's going to happen.
What are your parameters for deals that you want to invest in?
For us, the property always has to have an architectural or historical value. They need to have an importance, architecturally speaking. These types of properties hold their value, regardless of where the market really is. Then, depending on which city we're talking about, we go by return and yield. In New York and Los Angeles, we try to stay around 4 to 5 percent but, if something like the Flatiron building comes along, it doesn't get more iconic than that and we'd be willing to compromise a bit.
Have you seen evidence that these properties hold their value better?
For example, we sold our passive stake, 25 percent, in the Chrysler building in July of 2008. At the time, we valued the building at $600 million but the buyer stepped in and bought it for $800 million – because it was the Chrysler building.
You also own the controlling interest in the Flatiron building in New York. Will you sell that?
I don't see us ever selling it. I plan on passing it to my son.
What about changing its use?
We've talked about it in the past because it would make a very interesting hotel conversion. But we love our tenant – our office tenant is Macmillan – and, as of now, we don't know what's going to happen. Their lease expires in 2018. It will never become residential because we don't want to sell.
Where exactly does your capital come from?
About 90 percent of our investors are Italian and the other 10 percent are from elsewhere in Europe. They're mostly institutional investors. But we're looking in the next couple of years to start raising capital here in the U.S. We're getting ready for that. We also invest between 5 to 10 percent as a company in every project ourselves.
Has it been tougher to raise money in the current global economic climate?
It's definitely been a little more complicated. Italy has, like every other country in Europe, been suffering. What works in our favor is that we have this specific niche, because of the type of assets we own
Fonte articolo:
therealdeal.com